The Entomologist: Vol. 107-116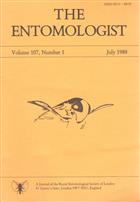 Description:
The journal was first published in 1840 and continued for two years, subsequently merging with 'The Zoologist'. Due to the increase in the number of entomological articles the Entomologist was re-established as a separate journal in 1864, and continued for 110 years, ceasing publication in 1973 with volume 106. It was briefly resurrected 15 years later with vols. 107-116 (1988-1997), and it is these final 10 volumes which are offered here.
Condition
10 vols, wrappers as issued. Index present for vol. 113 only.
You may also like...