The Fauna of the Portrane Limestone I-III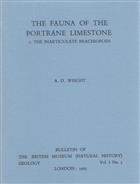 Description:
Bull. BM(NH) Geology, Vol. 8(5): 211-254 (I. The Inarticulate Brachiopods); 9(6): 157-256 (II. Superfamilies Orthacea, Dalmanellacea, Clitambonitacea, Triplesiacea); 10(11): 413-434 (III. The Corals)
Condition
Vg.
Other titles from the series : Bulletin of The Natural History Museum: Geology
You may also like...