The Flora of Rum: An Atlantic Island Reserve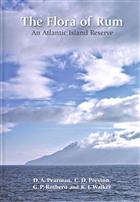 Description:
This flora provides an introduction to the climate, geology, vegetation and history of Rum, outlines its management while it was a private sporting estate and after it became a nature reserve, and gives a detailed account of the stoneworts, bryophytes, ferns and flowering plants of the island. Based on a critical assessment of historical records, on a wealth of scientific work initiated by the Nature Conservancy and its successors and on a recent survey at the 'tetrad' (2x2km square) scale.
Condition
Fine copy - as new.
You may also like...