The Genus Melastoma in Borneo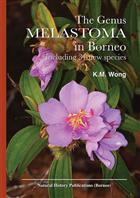 Description:
It was thought that only nine species of Melastoma existed on the island of Borneo in 2001. The present account enumerates 41, including 31 new species, providing the taxonomic bases for the significant changes in species recognition and classification.
Melastoma is more than a genus of plants with attractive flowers and horticultural potential. Its diversity mirrors that of the fascinating plant life found across the varied Bornean landscape, and how an evolving, expanding genus has filled ecological niches on one of the world's iconic tropical islands. Besides the regionally widespread Melastoma malabathricum, the other 40 species are all endemic to Borneo. They are noticeably diverse in the Northwest Borneo hotspot (southwest Sabah, Brunei and Sarawak) and on Mount Kinabalu but include many rare and little-known species that are part of the inherent richness harboured by tropical lowland ecosystems.
Continuing conservation approaches need to be informed about the number of species there are, and where these are known to occur. This taxonomic revision provides that essential window to a remarkable plant genus, and the unfolding (or remaining) possibilities for experimentation, horticulture and conservation.
You may also like...