The Genus Tricholoma (Fungi of Northern Europe 4)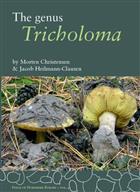 Description:
With identification keys, detailed descriptions, colour photographs, drawings and distribution maps of 67 northern European species of Tricholoma.
The book is the culmination of more than 20 years of field trips combined with type studies and molecular phylogenetic analyses.
Other titles from the series : Fungi of Northern Europe
Click to view all titles in this series...
Örstadius, L.
Price £65.00
Aronsen, A.; Læssøe, T.
Price £65.00
You may also like...