The Haplochromines (Teleostei, Cichlidae) of Lake Kivu (East Africa): A Taxonomic Revision with Notes on Their Ecology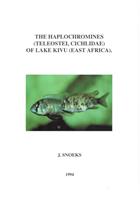 Description:
Fifteen haplochromine species from Lake Kivu, a deep natural dam lake on the Rwandese-Zairean border, have been described or redescribed. All species are endemic to the lake. Three new species are described.
Condition
Owner's name to fly-leaf, o/w a fine copy in d/w.
Other titles from the series : Annales Musee Royal de L'Afrique Centrale - Sciences Zoologiques
Other titles from the collection : Prof Jim Green
You may also like...