The Hard Ticks of the World: (Acari: Ixodida: Ixodidae)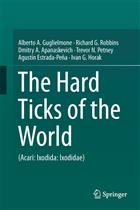 Publisher : Springer
Illustrations : 2 col illus
Description:
A single-source reference to essential taxonomic and biological information for every species of hard tick in the world.
A global overview of ixodid zoogeography and host associations.
A compendium of current literature on ixodid tick taxonomy and biology, arranged by species?
Hard ticks (family Ixodidae) are obligately blood-feeding ectoparasites of all classes of vertebrates except fishes. They occur worldwide and are preeminent among hematophagous arthropods for the variety of infectious agents that they transmit to humans and other animals. Because hard ticks have long been a focus of medical and veterinary research, the literature on this group is both voluminous and diffuse, with the result that those seeking information on a particular species are often at a loss as to where to turn. This book addresses that problem. Working as a team, six leading authorities on the Ixodidae have summarized current, essential information for every one of the world's 700+ hard tick species. Under each species name, readers will find a discussion of the original taxonomic description, followed by sections on type depositories, known life history stages, distribution by zoogeographic region and ecoregion, principal and exceptional hosts, and human parasitism. Each species account concludes with a list of salient references and, where necessary, remarks on any unresolved issues warranting further research or important species-specific information, such as introductions into regions outside a species' natural range or collections from novel hosts. No similar synopsis of the world's hard tick species has ever been attempted.
You may also like...