The Lichen Flora of Great Britain and Ireland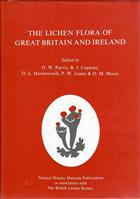 Description:
Comprehensive account of all lichens (in excess of 1700 taxa in 262 genera) occurring in the British Isles. Full descriptions of genera and species, including distributional (for Britain and abroad), chemical and ecological information. Diagnostic keys to each genus including a key to all genera, with a special key to sterile lichens growing on bark and wood. A standard work for the identification of lichens in Great Britain and Ireland.
Condition
Vg in d/w.
You may also like...