The Lives of Leaves: 50 Leaves, What they Mean, and What They Mean to Us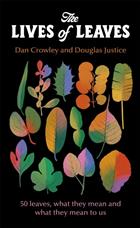 Description:
A beautifully illustrated and curated compendium of leaves from around the world. Organised by leaf shape, it tells the stories, science and history of that leaf, from sugar maple and how leaves turn red, to gingko and how leaves are used as medicine.
Full of fascinating science and very accessible - The Lives of Leaves is the perfect companion for readers who appreciate, or are waking up to, the wonder of nature, and who want to get to know it better.
You may also like...