The Moths and Butterflies of Great Britain and Ireland. Vol. 1: Micropterigidae to Heliozelidae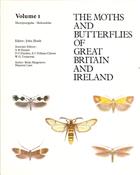 Condition
Vg in d/w (slightly chafed/rolled to head of d/w spine). From the library of K.G.V. Smith (1929-2017), leading British dipterist at the Natural History Museum, London, and editor of the Entomologist's Monthly Magazine, with his signature to endpaper. Also with the bookplate of Harold Oldroyd (1913-1978), entomologist, author of several books on flies and dipterist at the BM(NH).
Other titles from the series : Moths and Butterflies of Great Britain
Other titles from the collection : Ken Smith
You may also like...