The Spiders of Europe, a synthesis of data. Vol. 1: Atypidae - Theridiidae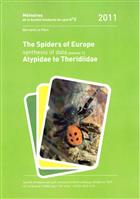 Description:
Text English, summary English/French. Overview of current knowledge on European spiders, with summary of information scattered in the literature. For each species: description with data on taxonomy, habitat, biology, distribution; figures emphasise critical features for identification; map of European distribution.
To be completed in four volumes. Vol. 1: 750 species, 2,100 drawings
You may also like...