The Witt Catalogue Vol. 11: A Taxonomic Atlas of the Eurasian and North African Noctuoidea: Noctuinae III. Poliina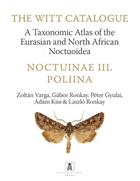 Description:
This 11th volume of the Taxonomic Atlas series consists of the second part on the subfamily Noctuinae, focusing on the revised taxonomy of the Palaearctic genus Eugnorisma along with 18 additional related genera of the tribe Noctuini. Includes the latest taxonomic information, full synonymy and diagnoses of 130 taxa of 19 genera (7 new species, 20 new subspecies, 2 new subgenera and 1 new genus are described). Illustrated with 30 high quality colour plates of magnified photos of all included taxa and 25 colour plates showing the variation of each taxon in natural size. The genitalia of all species and subspecies are figured on 114 black and white plates.
Other titles from the series : Taxonomic Atlas of Eurasian & N African Noctuoidea
You may also like...