The Wonderful Century: Its Successes and its Failures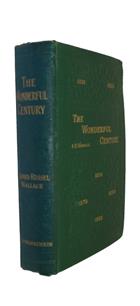 Description:
Third edition. (First published June 1898). In the preface Wallace states that this work ' may perhaps be termed an appreciation of the [nineteenth] Century- of what it has done, and what it has left undone. The attempt has been made to give short, descriptive sketches of those great material and intellectual achievements which especially distinguish the Nineteenth Century from any and all of its predecessors…'. The first part of the book lists 'Successes' such as Modes of Travelling, Labour-saving Machinery, Conveyance of Thought, Fire and Light, Photography etc; the second part concerns 'Failures' under which Wallace includes, The Neglect of Phenology, Hypnotism, Vaccination, Militarism, Greed and the Plunder of the Earth.
C. Smith (online bibliography), S726.
Condition
8vo, orig. green blind stamped cloth, light speckling to boards, corner slightly bumped, gilt titling to front board and spine, endpapers browned. Vg.
You may also like...