Towards Stability in the Names of Animals: A History of the International Commission on Zoological Nomenclature 1895-1995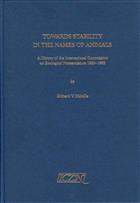 Description:
A history of the development of zoological nomenclature since the 18th century and of the part played by the ICZN. 14 full-page illustrations of eminent zoologists, from Linnaeus onwards, who played a crucial part in the evolution of the system of nomenclature
Condition
Cloth. Vg
You may also like...