Treatise on Optics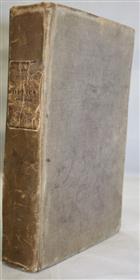 Description:
New edition. With an Appendix, Containing an Elementary View of the Application of Analysis to Reflection and Refraction by A.D. Bache. 'Intended to adapt the work to use, as a text-book, in the colleges of the United States'
Condition
Orig. cloth, stained, paper title label to spine, chipped, rear joint split. Ex-lib.: institutional book plate and previous owner's name to endpapers. Good.
You may also like...