Tropical Lepidoptera. Vol. 2-7(1) + 10-17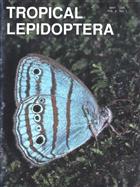 Description:
Vols 2-17, a run lacking parts 7(2), 8(1-2), 9(1-2), but including Contents list for vols 1-2, 3-4, 5-6. Contents include: 6(1, part 2): Gelechiidae of Taiwan I-II; 7(1/2): Notes on the genus Calisto 1; 13(1-2): Biology an Systematics of the Neotropical Leafminer genus Eucosmophora (Gracillariidae); 14(1-2): Crambidae of Aldabra Atoll; 15(1-2): The Pronophilina: Synopsis and Systematics (Nymphalidae; Satyrinae). Also included are Supplements 8(1): Classical biological control of the Citrus leafminer Phyllocnistis citrella; 8(2): Cladistics of the Ceratocampinae; 9(2): Notes on Neotropical Skippers. 2; 10(1): Lepidoptera of Belize (Butterflies, Emperor Moths and Hawk Moths); 12(1): Notes on Lepidoptera of the Solomon Islands. Current subscription is $95 per year
Condition
In original parts as issued. Vg
You may also like...