Tropical Planting and Gardening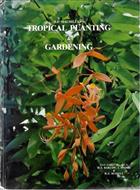 Description:
6th edition. Fully revised, with some new photographs and includes a number of species which are not Sri Lankan. So 'with special Reference to Ceylon' has been omitted from the title of this edition.
Condition
Fading to spine, some wear to foot of spne. Good. From the library of Keith Harris (1932-2022), British entomologist, and former Director of the Commonwealth Institute of Entomology. Inscribed to him by Henry S. Barlow.
You may also like...