Undaunted Spirit: The Life & Times of Joseph T. Reilly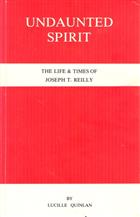 Description:
Concerns the history of Western Australia sketched around Joseph T. Reilly (1836-1915), founder of the Western Australia Catholic Record. With folding plate showing family tree.
Condition
Vg. Inscribed by author.
Other titles from the collection : Library of Pamela Gilbert
You may also like...