Wayside and Woodland Blossoms A Guide to British Wild Flowers. Series I-III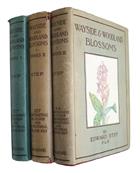 Description:
'New Edition'. Ser. 1: (1938), 1944; Ser. 2: 1941; Ser. 3: (1941), 1944.
Condition
3 vols, sm. 8vo, orig. cloth, gt. Owner's typed address label and gift inscription to verso of front free endpapers. A printed slip, headed 'Wayside and Woodland Blossoms' loosely inserted in ser. II + III, stating that plant specimens could be sent to A.B. Jackson at the British Museum (Natural History) for identification. Vg in d/w's (Ser. I - blue green, Ser. II-III - buff, all with mounted illustration to front panels; a little minor chipping/wear to edges)
Other titles from the series : Wayside & Woodland
Other titles from the collection : Keith Hyatt
You may also like...