Weevils of Canada and Alaska. Vol. 2: Coleoptera, Curculionidae, Entiminae Insects and Arachnids of Canada 25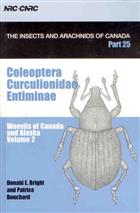 Description:
Treats 123 species in 49 genera of broad-nosed weevils of the subfamily Entiminae from the Canadian / Alaskan fauna. Includes a key to subfamilies of Curculionidae in Canada. Key to the genera Entiminae, and keys to species in each genus where required
Other titles from the series : Insects and Arachnids of Canada
You may also like...