Wild Mull: A Natural History of the Island and its People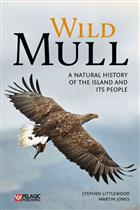 Description:
High above the mountaintops on the Isle of Mull, a huge bird is soaring. Its all-encompassing gaze records people in its Hebridean territory far below, but they are of no interest. The eagle is about its business: concentrating on the deer and fidgety hares out grazing in the morning sun, the urgent push of thermals beneath its wings, a threatening weather front way out at sea, and the restless chick back in its eyrie. This is Mull in its glory. This is what the excited, watching people have travelled so far to witness. They train their binoculars and admire, perhaps envy, the eagle with its vast freedom, knowing that such a self-willed being is part of another world - almost.
This book guides the reader through that world. With superb illustrations and illuminating text, we are led to the wild side of Mull. Every facet of the island's natural history is considered, its diverse species and many stories - past, present and future. Along the way we are reminded that wildness is not somehow separate from the human world but influenced, and shared, by nature and people together.
Here is the tale of a precious and unique place, a seaborne landscape that displays an uncommon biodiversity and rare wildlife experiences, although today it also faces its greatest challenges. Most of all, this book is testimony to the power of wild places and the duty we have to learn from and protect them.
You may also like...