Wildlife of Australia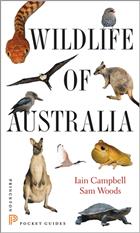 Description:
Ideal for the nature-loving traveler - a handy photographic pocket guide to the most widely seen birds, mammals, reptiles, amphibians, and habitats of Australia. Features more than 400 color photographs, and includes 350 birds, 70 mammals, 30 reptiles, and 16 frogs likely to be encountered in Australia's major tourist destinations. Animal species with similar features are placed on the same plates in order to aid identification.
Condition
New, unread copy, but with short tear to foot of title page.
Other titles from the series : Princeton Pocket Guides
Click to view all titles in this series...

Campbell, I.; Woods, S.
Price £9.99
(Save £8.00)

Hume, R.; Still, R.; Swash, A.; Harrop, H.; Tipling, D.
Price £9.99
You may also like...