Wood Structure in Plant Biology and Ecology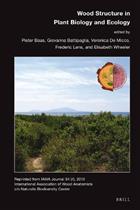 Publisher : Brill
Published In : Leiden
Illustrations : 17 col illus.
Description:
The study of functional and ecological wood anatomy plays a pivotal role in plant and ecosystem biology, plant evolution, and global change research. This book contains a selection of papers presented at the meetings of the International Association of Wood Anatomists and the Cost-Action STReESS (Studying Tree Responses to extreme Events: a Synthesis) held in Naples in April 2013.
Four review papers address (1) the hydraulic architecture of the earliest land plants, (2) the general phenomenon of axial conduit tapering in trees, (3) the hydraulic and biomechanical optimization in one of the most important plantation grown tree species, Norway Spruce, and (4) cellular and subcellular changes in the cambium in response to environmental factors. Three papers review or introduce new tools to observe the 3-D structure and functioning of wood, and novel tools for quantitative image analysis in tree ring series. Finally, five papers report original research on environmental effects on wood structure, including studies on plastic responses in European beech, effects of fire or late summer rains on Mediterranean Aleppo Pine, and the potential for using arctic shrubs or tropical deciduous trees in dendrochronological and climatological studies.
Reprinted from IAWA Journal 34 (4), 2013.
You may also like...