Writing Effective Ecological Reports: A Guide to Principles and Practice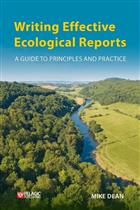 Description:
An in-depth guide to writing high-quality and effective professional ecological reports. Mike Dean distils the knowledge and experience gained over a period of more than 20 years working as an ecological consultant, during which time he has written and reviewed many such reports.
There are existing good practice guidelines on ecological report writing, published by CIEEM and co-authored by the author of this book. Writing Effective Ecological Reports goes beyond those guidelines. It provides practical advice on the structure, content and style of ecological reports, using numerous case study examples to help the reader's understanding. It also tackles topics not covered by the guidelines, such as how to write an effective summary, how to create and use a report template, how to proofread reports, and what those tasked with reviewing reports should be looking for.
This book will be invaluable for any professional ecologist, or anyone hoping to become a professional ecologist. It is particularly aimed at those who write ecological reports, such as ecological consultants. However, it also provides practical advice for those tasked with reading and reviewing reports written by others, including those working for local planning authorities or nature conservation consultees.
The book has been written to be useful to those with limited experience, such as recent graduates, as well as those with many years of experience as a professional ecologist, and everyone in the middle.
You may also like...