A Photographic Guide to the Birds of Malta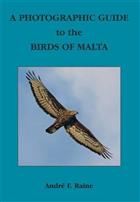 Description:
Amongst bird-watchers throughout Europe the Maltese islands are notorious for only one thing-the widespread killing and trapping of protected bird species. While this reputation is deserved, it is also a great shame as the island holds so much potential for bird watching and conservation. The opening chapters give the reader an over view of the situation regarding conservation and ornithology in the Maltese islands. The second half of the book provides detailed species accounts and photographs of 130 of the species encountered, including all resident breeders and common visitors.
Other titles from the series : Wildlife and People
Click to view all titles in this series...
Nelson, B.; Busby, J. (Illustrator)
Price £20.00


Smith, H.; Tilmouth, S.
Price £15.00
You may also like...