A Synonymic and Bibliographic Check-List of the Freshwater Mites (Hydrachnellae and Limnohalacaridae, Acari) recorded from Great Britain and Ireland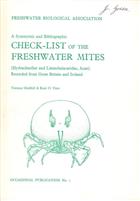 Description:
FBA Occasional Publication No. 1
Condition
Owner's name to front cover. Vg.
Other titles from the series : Freshwater Biological Association - Occasional Publication
Other titles from the collection : Prof Jim Green
You may also like...