A Systematic Account of the Plants collected in New Caledonia and the Isle of Pines by Prof. R.H. Compton, M.A., in 1914. Part I: Flowering Plants (Angiosperms)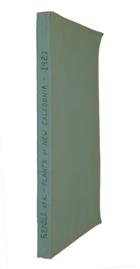 Description:
Extracted from the Linnean Society's Journal - Botany, XLV: 245-417.
Condition
Orig. plain wrappers, title inked to spine. Vg.
Other titles from the collection : Prof Jim Green
You may also like...