A World Catalogue and Bibliography of the Jewel Beetles (Coleoptera: Buprestoidea). Vol. 1: Introduction; Fossil Taxa; Schizopodidae; Buprestidae: Julodinae - Chrysochroinae: Poecilonotini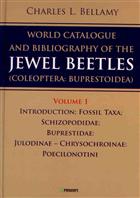 Description:
First of 5 vols. First complete world catalogue of the jewel beetles (Buprestidae and Schizopodidae), since Obenberger's (1926-1937) contribution to Horn & Schenkling: Coleopterorum Catalogus. Vol. 1: Fossil jewel beetles; Schizopodidae; Buprestidae (subfamilies: Julodinae, Polycestinae, Galbellinae, Chrysochroinae (part))
Other titles from the series : Series Faunistica
You may also like...