Acarorum Catalogus II: Acariformes: Acaridida, Listrophoroideam Listrophoridae, Dromiciocoptidae, Myocoptidae, Chirodiscidae, Atopomelidae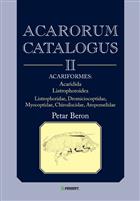 Description:
Text English. Second volume in the series 'Acarorum Catalogus' covers world fauna of group (formerly Superfamily) Listrophoroidea. 830 species are listed, with synonymies and citations. Also contains lists of country distributions, hosts, etc., and eight new combinations.
Other titles from the series : Series Faunistica
You may also like...