Advanced Ecological Theory: Principles and Applications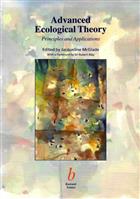 Description:
Provides an overview of current advances in the field as well as closely related areas in evolution, ecological economics and natural resource management, familiarizing the reader with the mathematical, computational and statistical approaches used in thee different areas. The book has an exciting set of diverse contributions written by leading authorities. Intended for both postgraduate students and professional researchers in ecology.
Condition
Fine. From the library of Prof. J. Green (1928-2016) with his name to half-title.
Other titles from the collection : Prof Jim Green
You may also like...