Amphibians and Reptiles of Trinidad and Tobago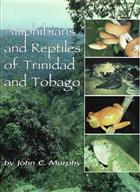 Description:
A guide to these islands' herpetofauna, covering 129 species and subspecies, environment of the islands, and the natural history of the herpetofauna. Over 90% of species are illustrated, with keys to identification and range maps.
Condition
Vg in d/w.
Other titles from the collection : Prof Jim Green
You may also like...