An annotated list of the Lepidoptera of Alberta, Canada (ZooKeys 38)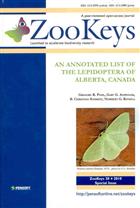 Description:
ZooKeys 38. Special issue. Lists 2367 species recorded in the province, as well as 138 probable species. Species accounts (for 1524 species): adult flight time; literature and public collection sources for records; taxonomy; nomenclature; distribution; habitat; biology
Other titles from the series : ZooKeys
You may also like...