Arachnida and Myriapoda of the Seychelles Islands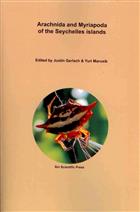 Description:
The Seychelles islands are biogeographically interesting, with ancient affinities to Africa and Asia, recent colonizing species from the Indo-Pacific and modern introductions. Until recently, relatively little was known about the biodiversity of the islands. This has changed through the publication of a series of monographs on the Seychelles fauna, presenting the latest information on all the terrestrial and freshwater animals of the islands. In this current volume on the Arachnida and Myriapoda of the Seychelles islands, 14 expert scientists from 11 different countries have provided contributions that cover all 433 species of spiders, scorpions, mites, centipedes, millipedes and related groups currently recorded from the islands. The volume includes a brief history of arachnid and myriapod collecting in the Seychelles islands and systematic keys, diagnostic illustrations and descriptions for most species, in addition to distribution records and assessments of species conservation status as defined by the International Union for the Conservation of Nature (IUCN). With more than 1,500 illustrations this is a must for any arachnological/myriapodological/zoological library
You may also like...