Ascidiacea of the European waters (Fauna d'Italia 51)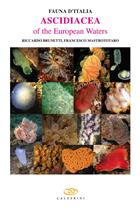 Description:
Text English. Sea squirts are filter-feeding marine organisms that generally inhabit sandy and rocky seabeds, such as rocks at the limit between high and low tide, but sometimes they can also develop on other substrates, such as other animals or plants. They live in colonies and in small pools they can multiply conspicuously.
This volume deals with all the European species known from the Arctic Ocean to the Mediterranean, with particular attention to the Italian coasts, with up-to-date distribution data and which clearly identifies, with illustrations and drawings, the various species present.
Other titles from the series : Fauna d'Italia
You may also like...