Back to the Roots and Back to the Future. Towards a New Synthesis between Taxonomic, Ecological and Biogeographical Approaches in Carabidology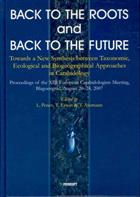 Description:
Proceedings of the XIII European Carabidologists Meeting, Blagoevgrad, August 20-24, 2007. sections: Taxonomy, Molecular Studies and Biogeography; Biology and Conservation; GLOBENET - Carabids in Urban Environments; Carabids and Habitats. The book will be of use to carabidologists, specialists in traditional and molecular systematics, general and applied ecology, conservation biology and bioindication, urban ecology and biogeography
Other titles from the series : Series Faunistica
You may also like...