Bergey's Manual of Systematic Bacteriology Vol. 1-2(A+B)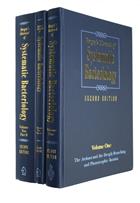 Description:
Second edition. A classic in the field of microbiology. Vol. 1: The Archaea and the Deeply Branching and Phototrophic Bacteria; Vol. 2A: The Proteobacteria; Vol. 2B: The Gammaproteobacteria. The three parts offered here have a combined published price of £554.97. (A third part of Vol. 2, plus a 4th and 5th volume have also been published but not present here.)
Condition
4to, orig. cloth, gt. Owner's name to one endpapers. A fine set.
Other titles from the collection : Prof Jim Green
You may also like...