Bibliography of Copepoda up to and including 1980. Pt. I-III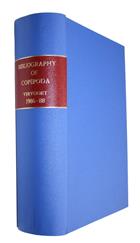 Description:
Scarce complete set in 3 parts. Part I (A-G); Part II (H-R); Part III (S-Z), Addenda and Corrigenda, Supplement 1981-1985.
Crustaceana, International Journal of Crustacean Research, Supp. 10, 11, 12.
Condition
3 parts bound in one volume, roy. 8vo, buckram, with contrasting title-piece to spine. Finely bound.
Other titles from the collection : Prof Jim Green
You may also like...