Buller's Birds of New Zealand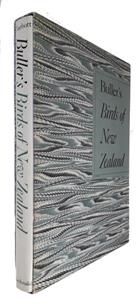 Description:
A new edition of Sir Walter Lawry Buller's 'A History of the Birds of New Zealand' reproducing in colour the 48 stone-plate lithographs by J.G. Keulemans from the 2nd edition, 1888.
Condition
Fo, dec. cloth, gt. A fine copy in fine d/w and marbled slipcase.
You may also like...