Butterflies of the World 48 Nymphalidae 28: Euphaedra II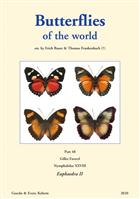 Description:
A continuation of the work of J. Hecq, whose volume on Euphaedra appeared in this series in 1999 and included 77 species. Currently there are 245 known species of this genus. New species as well as variations of species formerly illustrated are pictured in this volume.
Other titles from the series : Butterflies of the World (Bauer/Frankenbach)
You may also like...