Calanoida of the Far Eastern Seas and Polar Basin of the USSR (Veslonogie rachki Calanoida Dal'nevostochnykh morei SSSR I Polyarnogo basseina)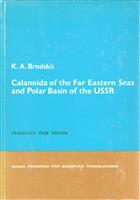 Description:
In English, translated from Russian. Keys to the Fauna of the USSR, Zoo. Inst. Ac. Sc. USSR 35.
Condition
Vg in d/w. From the library of Prof. J. Green (1928-2016) with his name to endpaper.
Other titles from the collection : Prof Jim Green
You may also like...