Caridean Shrimps found in Land-Locked Saltwater Pools at four Indo-West Pacific Localities (Sinai Peninsula, Funafuti Atoll, Maui and Hawaii Islands), with the description of one new genus and four new species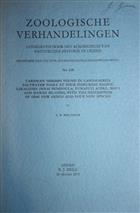 Description:
Zoologische Verhandelingen No. 128.
Condition
Orig. printed wrappers. Vg. From the library of Prof. J. Green (1928-2016) with his name to front wrapper.
Other titles from the series : Zoologische Verhandelingen
Other titles from the collection : Prof Jim Green
You may also like...