Catalogue of Aleocharine RoveBeetles of Canada and Alaska (Coleoptera, Staphylinidae, Aleocharinae)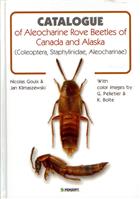 Description:
Text English. First comprehensive catalogue of difficult to identify and poorly known Canadian and Alaskan aleocharine rove beetles. Most recent list of synonyms and valid species in a classification reflecting the current state of knowledge. 389 valid species classified in 92 genera and 14 tribes, and 361 synonyms are reported. Information on tribes, genera, species and synonyms with references to the original descriptions for genera and species, the status of each species, summary of distribution and references to literature
Other titles from the series : Series Faunistica
You may also like...