Catalogue of Palaearctic Coleoptera 1: Archostemata - Myxophaga - Adephaga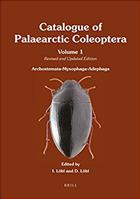 Description:
2nd updated edition of the first volume (1st ed. published 2003). Contains information on 33,914 taxa (together with synonyms), and increases the number of included species and other taxa by almost 5,000. In addition, thousands of species have their distributional data completed, and their ranks, systematic positions and nomenclature corrected. Almost two hundred new acts fix systematics and nomenclature, and numerous problems are discussed. Even such well known genera as Calosoma and Carabus, or tribes as Bembidiini and Panagaeini, are completely reorganized compared to the previously published catalogues. Thus, the work is a scaffold for biotic surveys, ecological studies, and nature conservation.
Other titles from the series : Catalogue of Palaearctic Coleoptera
You may also like...