Catalogue of Palaearctic Coleoptera 8: Curculionoidea II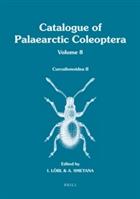 Description:
Volume 8 provides a list of all taxa of the bulk of the family Curculionidae and of Cryptolaryngidae reported from the Palaearctic region. For the genus and species-groups all available names are given, and for the valid species and subspecies the distribution by country is shown, with more details for endemic taxa. Type species are listed for all genus-group names. Includes corrections to previously published volumes of the Catalogue.
Other titles from the series : Catalogue of Palaearctic Coleoptera
You may also like...