Cladocera as Model Organisms in Biology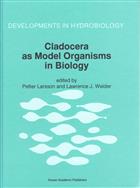 Description:
Proceedings of the 3rd Int. Symp. On Cladocera, Norway, 1993. Reprinted from Hydrobiologia, vol. 307. The cladocera occupy an intermediate position in lake ecosystems, both as plankton and as benthic organisms. This volume covers recent findings on their behaviour, life history, population genetics, reproduction, chemical communication, predator-prey interactions, and biogeography.
Condition
Vg.
Other titles from the series : Developments in Hydrobiology
Other titles from the collection : Prof Jim Green
You may also like...