Contributions to the Biology of the Philippine Archipelago and Adjacent Regions: Descriptions and Figures of new fishes obtained in Philippine Seas and adjacent waters by the United States Bureau of Fisheries Steaamer 'Albatross'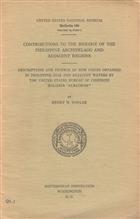 Description:
US Nat.Mus.Bull. 100 Volume 14, Part 2
Condition
Good ex-lib copy.
Other titles from the series : United States National Museum Bulletin
You may also like...