Crustaceorum Catalogus Pars 4/5. Ostracoda I Podocopa I: Fam. Entocytheridae/ Amphipoda II Caprellidea II: Fam. Cyamidae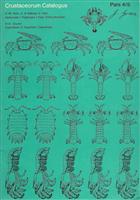 Description:
Text English.
Condition
8vo, orig. wrappers. Neat ink title added to spine. From the library of Prof. J. Green (1928-2016) with his name to title-page. Vg.
Other titles from the series : Crustaceorum Catalogus
Other titles from the collection : Prof Jim Green
You may also like...