Darwinism and Lamarckism: Old and New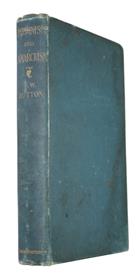 Description:
Four lectures: Darwinism, The New Darwinism, Darwinism in Human Affairs, The New Lamarckism. Photogravure frontis. portrait of Lamarck. Frederick Wollaston Hutton (1836-1905) was a British/New Zealand naturalist, one of the best known nineteenth century naturalists in New Zealand and a staunch exponent and supporter of Darwin's theories of natural selection.
Condition
8vo, orig. cloth, rubbed, soiled. School prize book-plate to endpaper. Occasional minor foxing; marginal staining to a few leaves. Good.
Other titles from the collection : Ken Smith
You may also like...