Das Zooplankton der Binnengewässer. Teil 1-2 (Die Binnengewässer Bd XXVI (1-2))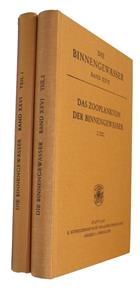 Description:
Text mostly in German with chapters by Fryer on parasitic Copepoda and Branchiura in English. Teil 1: Protozoa, Süsswasser Medusen, Rotatoria, Ostracoda, Mysidacea, Chaoboridae, Hydrachnellae, Mollusken; Teil 2: Freilebende Copepoda, Free-living Stages of Freshwater Parasitic Copepoda, Branchiura.
Condition
8vo, 2 vols, orig. cloth. Owner's name to endpapers. Vg.
Other titles from the series : Die Binnengewässer
Other titles from the collection : Prof Jim Green
You may also like...