Die Süsswasserkrabben Süd-Amerikas und ihre Stammesgeschichte (Crustacea, Decapoda) [with] Die Süsswasserkrabben von Europa, Asien, Australien ...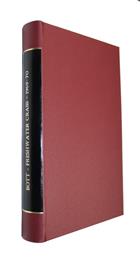 Description:
Text German. Abhandlungen der Senckenbergischen Naturforschenden Gesellschaft 518 & 526.
Condition
Two works bound together, recent buckram, leather title-piece to spine. Fine. From the library of Prof. J. Green (1928-2016) with his name to title-pages.
Other titles from the collection : Prof Jim Green
You may also like...